Weddings And Special Events
Thank you for considering Dublin Ranch Golf Course for your special day! You are cordially invited to discover what makes Dublin Ranch Golf Course the truly perfect venue for your event. Dublin Ranch offers an elegantly appointed clubhouse with panoramic views of the lush golf course fairways, rolling Dublin Hills and the scenic Tri-Valley. We truly appreciate that you are considering Dublin Ranch Golf Course as your venue of choice and we would be honored to be part of your special day.
For your dining enjoyment and privacy, the Ballroom offers a beautiful facility with an amazing view of the rolling Dublin Hills. Our Terrace is also available to bring a fresh addition to your event. The Terrace offers guests memorable moments and shared laughs while dancing under the stars.
Facility fees and guest minimums depend on the day, date, time and nature of the event. Please call with any questions or to obtain room fees and ceremony fee information.
---
To schedule your no-obligation tour and to learn more, please contact us today.
Please CLICK HERE for our Inquiry Form
Contact: Kishara Salgado, Catering Sales & Marketing Manager
(925) 556-7040 ext. 201
ksalgado@kempersports.com
CLICK IMAGE BELOW FOR ONLINE BROCHURE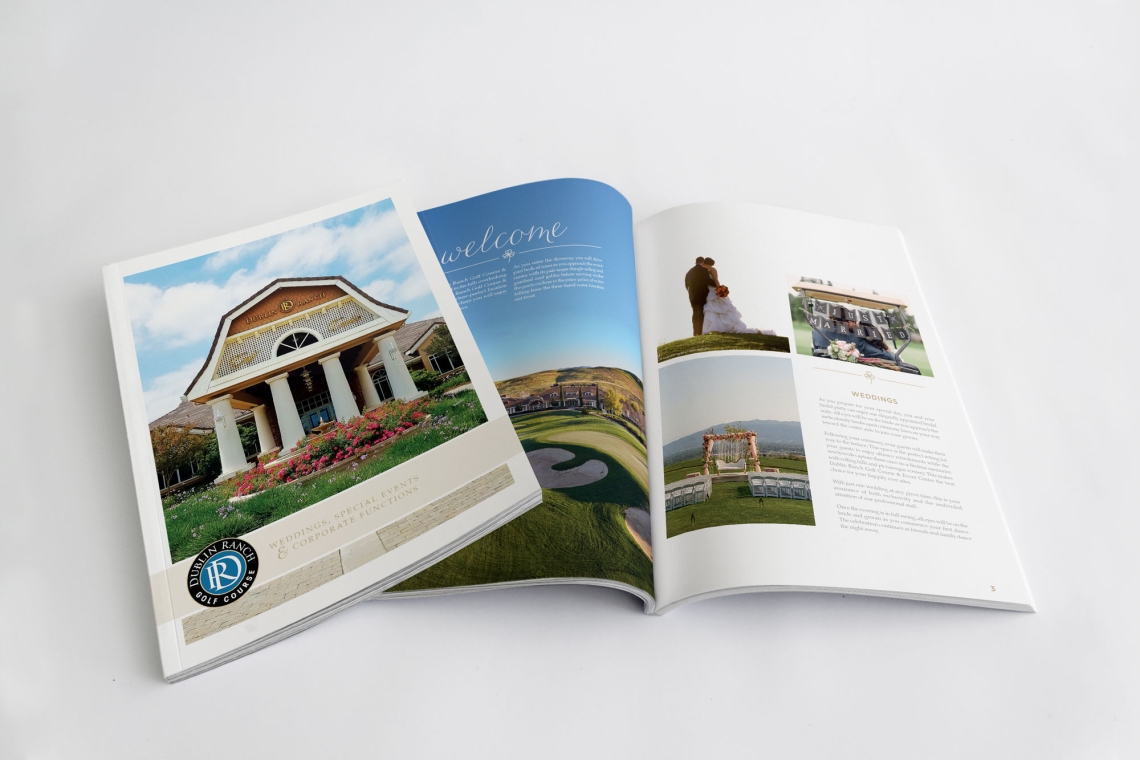 Testimonials
I just wanted to say thank-you again for all you did with my daughter's reception. The food was delicious and the service was excellent! It ran nice and smooth because of you. I can't thank-you enough. Sincerely, Debbie M. (Mother of the Bride)
---
We could not have done this without you! Thank you for your patience, guidance & understanding, but most important for creating our wedding day! Again, thank you! Christina & Rich L. (Bride & Groom)
---
Josh & I couldn't have been more pleased with the level of service, attention to detail and the constant reassurance that our wedding reception …was to be absolutely perfect! Thank you for everything! Our reception was everything we had hoped for from the set up details, the food and presentation, to the outstanding customer service. It was perfect! We're still getting compliments. We're going to miss working with you most! It was an absolute pleasure. Thanks again… Sincerely, Kristi & Josh W. (Bride & Groom)
---
The wedding of our daughter…and son-in-law…is now a beautiful and enduring memory. Thank you for all that you and your staff did to produce such a spectacular evening. The food presentation was outstanding! Everything seemed just perfect. We were very impressed… Thank you, again. We will remember you. With all good wishes - Cathy and Ron H. (Parents of the Bride)